We're Getting Mutants in the MCU - The Loop
Play Sound
"My Heart Goes Bang" (later retitled with the name "My Heart Goes Bang (Get Me to the Doctor)")is a 1985 song by the British band Dead or Alive. It was the fourth and final single from the band's second studio album Youthquake. It charted at number 23 in the United Kingdom, number 12 in Japan, and became a dance hit in the U.S.
Remixes:
[
]
In 1985 to promote the song as a single, they had to re-record Pete's voice and some parts of the song for promotion worldwide.
A 7" remix and two 12" extended remixes of the single were released.
The song was then remixed a third time for Dead or Alive's compilation album, Rip It Up, released in the fall of 1987.
"My Heart Goes Bang" was again remixed and re-recorded for Fragile and Unbreakable which were only available on Avex Label in Japan.
In 2016, in the re-release of "Fragile", they placed on the album an unpublished version of the 2000 version of the song, in which you can hear the original voice of Pete sung in 1985 (extracted from the version of "Youthquake" )
Music video:
[
]
Parts of the music video depict lead singer Pete Burns in a leather jacket on the back of a motorcycle, and the band walking down a catwalk in sunglasses. No official music videos were released for the Japanese versions released in 2000.
Track listing:
[
]
UK 7":
[
]
My Heart Goes Bang (Get Me To The Doctor) [7" US Wipe Out Mix]
Big Daddy Of The Rhythm (Live at the Hammersmith Odeon, July 1985)
UK 12":
[
]
My Heart Goes Bang (Get Me To The Doctor) [Extended]
Big Daddy Of The Rhythm (Live at the Hammersmith Odeon, July 1985)
My Heart Goes Bang (Get Me To The Doctor) [7" Mix]
Chart performance:
[
]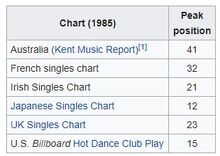 Video:
[
]