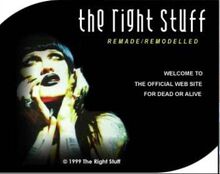 "Dead or Alive - The Right Stuff Website" (or "The Right Stuff - The Official Dead Or Alive Web Site") was the official website of the British band Dead or Alive, whose domain was http://www.deadoralive.net/. It was created in 1999.
History:
The page was created in 1999, being one of the first web pages of information and band news in the world that little by little were appearing on the Internet. During that time, the band had already released the North American edition of "Nukleopatra".
From there, the page began to grow over the years, with news about the band, new projects, information gathered, a gallery of videos and images, a virtual store, etc.
Currently, since 2013 the page closed permanently, but some webmasters of the site say that it is likely that it will return later completely renewed.